Tyco Centres of Excellence
Global network of engineers in 17 research and development facilities around the world, Creating solutions adapted to local markets and our customers' needs, Sharing technology, knowledge and ideas. 
AMERICAS
1.Brossard, Canada
2.Cranston, RI USA
3.Mansfield, TX USA
4.Marinette, WI USA
5.Westminster, MA USA
EMEA
6.Barcelona, Spain
7.Ladenburg, Germany
8.Munich, Germany
9.Ráječko, Czech Republic
10.Sunbury-on-Thames, England
11.Great Yarmouth, England
12.Corropoli, Italy
APAC
13.Bangalore, India
14.Christchurch, New Zealand
15.Shanghai, China
16.Sungnam, South Korea
17.Pingtung, Taiwan
Marcas TFPP (Marcas Tyco Fire Protection Products)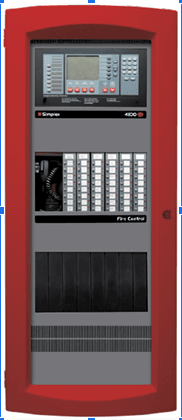 Simplex 4100ES: an premium solution for medium and large installations. 
TrueAlam technology;

TrueSense early fire detection;

TrueAlert conventional and A / V addressable;

Bilingual operation;

Universal platform - small to large systems

UL / FM listed for suppression clearance;

2500 mixed IDNet addressable points;

Integrated voice alarm and fire alarm phones;

Voice scrambling / message splicing;

Walktest spoke;

Smoke Management and Control;

Annunciation Modules;
- Remote Download allows faster programming and operation of the complete panel network through a single panel.
- Installation Mode can greatly simplify retrofits and upgrades.
- The storage device allows you to easily and safely store data and file systems.
SECURE STORAGE FOR IMPROVED ACCESS AND COMPLIANCE.
The storage device is vital for internal panel data files such as system software programs, building plans, test reports and any other type of information. No extra cabinets are needed in the control room and everything is easily accessible. In addition the storage device is supervised so that it can be alerted in case of failure or removal.
SECURE STORAGE FOR IMPROVED ACCESS AND COMPLIANCE.
Projects that require a piecemeal installation can take advantage of Installation Mode. In this mode the 4100ES can issue a single fault alarm for points that are not programmed into the system, have not yet been wired or have been wired and not commissioned. This can eliminate recurring problems during installation and reduce system operator frustration.
DOWNLOADS REMOTELY.
They minimise interruptions and are faster than previous programs. Technicians can download programs to the entire panel network from a single location.All new programs will automatically be archived on the storage device along with all previous programs for easy retrieval and comparison.
SIMPLEX - NEW FEATURES, SAME GREAT RELIABILITY.
The new 4100ES system retains all the critical functions of the 4100U, including emergency communications/mass notification capability through the innovative SafeLINC™ Simplex Internet interface, and the ability to generate and send specific, simultaneous alerts.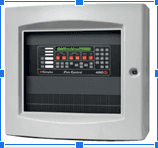 Simplex® 4010ES: ideal for small and medium-sized installations. 
Easier installation, maintenance and upgrades.

 Capacity of 1,000 points in up to four loops.

Compatible with Simplex TrueAlarm detection technology.

Supports conventional and addressable detectors.

Full compatibility with networked systems.

Simplex 4007ES: small installations. 
The 4007ES Series Fire Detection and Control Panels provide comprehensive installation, operation and maintenance capabilities with point and module capabilities suitable for a wide range of system applications. The convenient and intuitive color touch screen provides easy access for typical system response actions and for detailed system review or configuration updates with password control to limit user access.
Flexible standard combination of conventional and addressable initiation satisfies a wide variety of new and retrofit applications. 4.3 in. colour touchscreen display (109 mm):
Convenient and intuitive user interface provides detailed system status and individual point information

Supports dual language selection, including unicode character languages

A customised background screen appears when operation is normal (see page 6 for details)
100 to 250 IDNet addressable;

Hybrid platform.
Point Smoke Detector - Simplex

Simplex® TrueAlarm photoelectric detectors provide many of the proven TrueAlarm analog detection capabilities for applications where detectors are connected to conventional 2- or 4-wire initialization device circuits (IDCs). Each TrueAlarm detector has an on-board microprocessor that evaluates its light-scattering photoelectric camera activity and makes an intelligent decision based on light obscuration history as to whether an alarm condition is present.
Thermal Detector - Electronic Heat Detectors SIMPLEX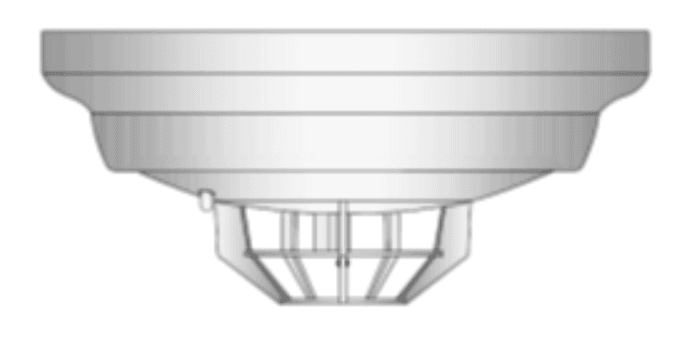 Precise Electronic Design. Simplex® electronic heat detectors use a rapid response thermistor based design to provide quickly accurate and consistent temperature detection when fixed temperatures are exceeded. The fixed temperature sensing thermistor readily tracks the local ambient temperature. This eliminates the time required to melt a lead pellet or heat a bimetallic element, as occurs in mechanical heat detector designs, and provides the heat detection required for most applications.
Fixed temperature operation is suitable for most applications:
Thermistor-based design is inherently compensated for minimal thermal delay

Available for 135° F (57°C) or 200° F (93°C)

UL and ULC spacing distance is 21.3 m (70 ft)
Audio Visual Signalers - SmartSync SImplex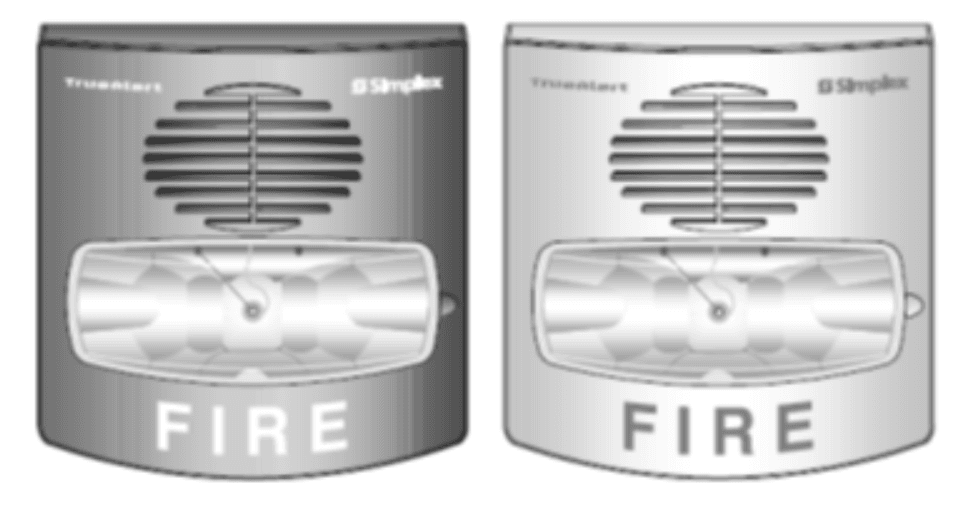 Audible / visible (A / V) notification appliances with efficient electronic stirrup and high-power xenon strobe, available for wall mounting:
The operation is ADA compliant;

 Robust, high-impact, flame-retardant thermoplastic cases are available in red or white with clear lenses;
Push and Pull Manual Override
Dual Action Stations (Push Type) require a spring-loaded interference plate (marked PUSH) to be pushed back to access the pull lever of the single action station.
Station reset requires the use of a button to reset the manual station handle and disable the alarm switch.
The station test is performed by physically activating the traction lever.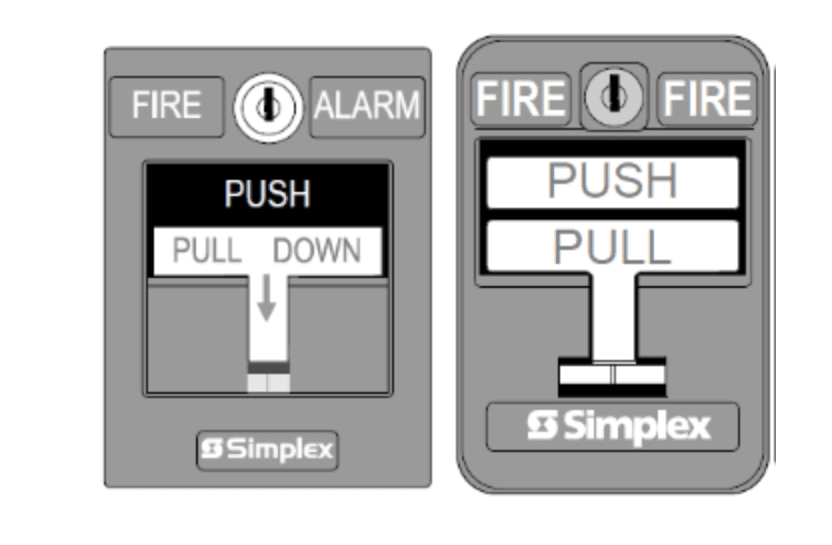 Supervision system - TrueSite Simplex Software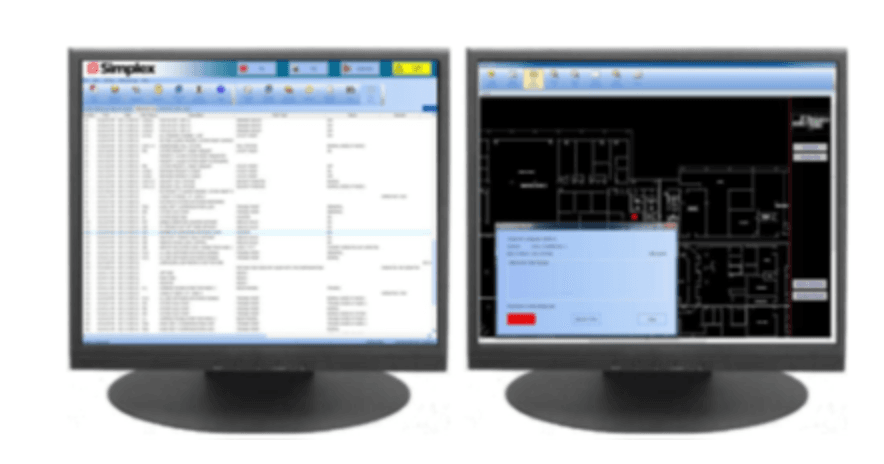 The ideal solution for medium to large facilities is that the fire detection, alarm and suppression system is integrated into a workstation running TrueSite Simplex software via Ethernet TCP/IP, LAN/WAN communication for monitoring the events recorded by the fire alarm central offices. 
The Simplex TrueSite Workstation is a state-of-the-art platform that manages an entire fire and life safety network from a single location. This PC-based graphical command centre provides centralised network announcement, historical records, reporting and control of fire alarm network points. TrueSite workstations can support 7 network loops with up to 686 Simplex panels and seamlessly integrate competing panels using an agency-listed DACR option. Touch screen operation combined with an intuitive graphical user interface and customized event-specific operating instructions can help speed response to an emergency and control your training costs.
The Simplex TrueSite workstation supports up to 20 simultaneous remote client connections and leverages the client's existing LAN / WAN for remote ad deployment.
Highlights:
- Monitors and controls up to 50,000 devices;
- Supports seven network loops and up to 686 panels ;
- Monitors any brand of control panel using certified digital alarm communicators;
- Stores historical data for up to 500,000 events
- Graphically displays information and events on a map with all the switches and individually from each switchboard, as shown in the images below;
Rapid emergency response and notification - The TrueSite workstation is designed to provide fast and efficient response to emergency situations. In an emergency, TrueSite receives input data from system devices and then automatically provides operators with color-coded action messages; customizable WAV file-based audio notifications; and detailed step-by-step instructions on how to respond to the specific condition.
Simultaneous display of graphic and textual alarm data on up to four display screens - Helps system operators quickly assess system activity and respond quickly to an emergency. TrueSite also includes highly configurable email event notification capabilities, extending the power of the system to mobile and external team members.
High resolution colour graphics - With an advanced graphical user interface, the TrueSite workstation provides touch screen or mouse access to all system control features. It can import site plans and graphically display fire, emergency, supervision and network problem conditions. Higher screen resolutions provide additional space for detailed graphics. In addition, pan and zoom technology makes it easy to zero in on a specific point of interest.
Perfect integration, excellent survivability:
At a time when interoperability and continuity are more important than ever, the TrueSite system combines seamless integration with industry-leading survivability. Using its DACR (Digital Alarm Communication Receiver) interface, TrueSite can accept alarm information from virtually any control panel. This allows TrueSite to connect, in an integrated solution, control panels from other vendors as well as panels in locations too remote to network. The TrueSite system is further distinguished by its exceptional survivability. Unlike other systems, the TrueSite workstation operates as a real node in the fire alarm network. This architecture has the advantage of providing a true peer-to-peer connection with all panels in the network.
Note: Once you have acquired the TrueSite software license, there is no need to renew the license, the necessary updates will be made in the same activation key, free of charge.
General features of the TrueSite workstation:
 

Simplex® network of fire alarms connected with graphical interface control;

TCP/IP, LAN/WAN connections available; up to 20 remote clients can connect to the server for multiple remote users; with dedicated, listed fire alarm LAN equipment, listed remote clients can control access;

Supports standard fire service annunciation icons to provide firefighters and first responders with critical fire response information;

Customised alarm and system messages can intuitively guide the emergency team; important information (HAZMAT locations, contact information, etc) can be quickly displayed;

Colour graphic annunciation and control capability for up to 50,000 points or groups of points;

Floating and couplable windows allow the windows to be fixed (coupled) or floating;

Four monitor support allows multiple active windows, for example to put the Alarm List window on one monitor and the graphics window on another, with up to 4 monitors supported;

Pan and zoom capabilities allow precise dynamic navigation within a graphical display for quick and convenient selection of the area of interest;

Configurable coverage zones allow user-defined areas or zones within a graphic screen to be highlighted to indicate the area of activity, without zooming in on the point of interest;

Auto Jump allows the screen display to automatically jump to a graph at a predetermined zoom level with the active device centered on the screen; alternately, the system can be selected to automatically jump to the Alarm List window;

Captive or Non-Captive modes support dedicated workstation operation (captive) or workstation operation with other Windows applications (word processing, spreadsheet, etc.) where workstation activity takes precedence (non-captive);

Extensive history logging; up to 500,000 events with operator annotations; information is compatible with spreadsheet and database programs for report customization;

Optional interface for the Digital Alarm Communication Receiver (DACR) to integrate multiple systems into a single workstation*;

Multiple password controlled operator levels with access to selectable functions;

Optional connections available for printers or other compatible systems;

 Works with 32-bit Windows 7 Professional or Windows 7 Enterprise

Improved workstation system features:

Test Mode

allows discreet testing of selective devices without annoying interruptions to the operator's workstation, events are logged in the background with a visual Test Mode indicator in history logs;

Node Name

supports the inclusion of a description of the specific building or area associated with a point in workstation views and reports;

Operator Remarks

allows an operator to record the observations associated with individual events for historical records and retrieval;

DACR Account Filter

allows History Log Reports to be filtered by DACR Account for quick access and verification of information associated with an individual account;

Web Browser Command Link

enables the ability to easily call up an external page or link (web camera, etc.) with a single command button on a chart screen;

RAID 1 support

provides a "mirror image

in real time

on a secondary hard drive to improve workstation life safety survival. Operation will automatically switch to the alternate drive in a drive failure without loss of operation;

Vector information for supervised clients: select by point, event category, panel or custom list;

Email generation available to send updates to individuals or to distribution lists with selectable content;

Audio (WAV) files can be used to create personalised status announcements using built-in local speakers;

Temperatures in Fahrenheit or Celsius can be displayed for screens showing the temperatures of heat sensors.  
Details of the graphic screens:
Capacity for over 30,000 custom graphic screens generated and edited in the field

Multiple import and export formats supported (see page 4 for details)
Additional Fire Alarm Network capabilities
Multiple workstations can be nodes on the same fire alarm network to provide redundant operations for enhanced survivability

Connects up to seven (7) separate network loops

 Graphical diagnostic tools identify network node and loop status

Functions defined by the host set service allow access to remote network node data, including TrueAlarm analogue sensors

 Provides event printing (with compatible printer), view or print status and service report information, and print graphic displays (see page 8 for printing details)

 IMS-compatible (IMS Management Systems)

 Information) and CCG (Graphic Command Centre) in the same fire alarm network

 Multiplex 2120 Serial Line Interface (SLI) allows connection of up to eight Multiplex 2120 systems
Call and count on the most reliable and efficient distributor for: 
Simplex, detection and alarm system, simplex control panel
For more information on how to get in touch with the best distributorCall Elfire on the following number: (11) 3280.8097. If you prefer, write to: [email protected], We are:
Simplex distributor, detection and alarm system, simplex central office for companies;

Simplex distributor, detection and alarm system, simplex central office for Data Centres;

Simplex distributor, detection and alarm system, simplex central office for sheds;

Simplex distributor, detection and alarm system, simplex central office for buildings;

Simplex distributor, detection and alarm system, simplex central office for commerce;

Simplex distributor, detection and alarm system, simplex central office for Museums;

Simplex distributor, detection and alarm system, simplex central office for hospitals;

Simplex distributor, detection and alarm system, simplex central office for Boats;

Simplex distributor, detection and alarm system, simplex central office for Mining Companies;
Simplex distributor, detection and alarm system, simplex central office for wind turbines;
For further information click on this link: https://www.marcioferreira.eng.br/