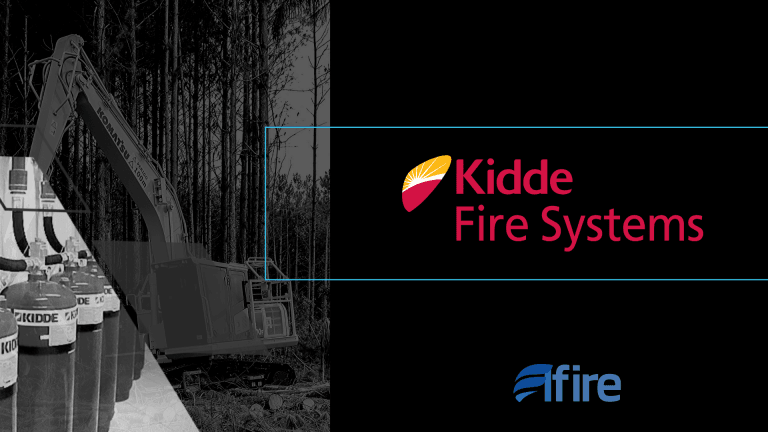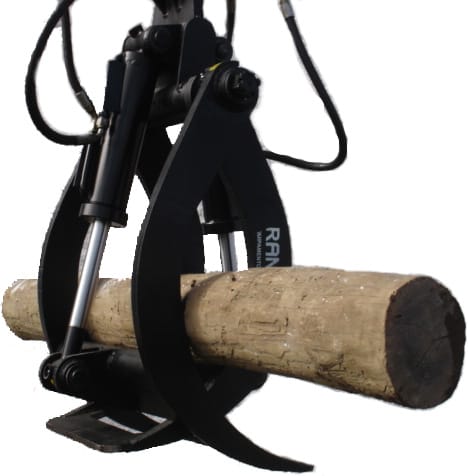 Protecting forestry equipment against fire is a challenge that requires proven expertise and performance
The machines used in the forestry industry are frequently subject to the risk of fire, due to the fact that the operation of these machines involves an abundance of combustible sources originating in the forest itself, such as wood chips, branches, leaves and other debris. To these organic combustion sources, diesel oil, lubricating oil and the machine's hydraulic noise are added. The sum total of all these combustible materials creates a constant opportunity for a fire to start, which if not fought quickly and automatically threatens the operator, the machine itself, and the forest where it is working.
The KVS SENTINEL - Kidde Vehicle System, manufactured by Kidde Fire Systems (Ashland - Massachusetts - USA) is the result of extensive field research conducted on machinery subjected to frequent fires. Based on this research, Kidde, the world's leading manufacturer of all-purpose fire-fighting equipment, developed and launched in 2010 the KIDDE KVS Sentinel System, which is today the most modern in the world, for the automatic extinguishing of fires in heavy machinery used in harsh environments, such as forestry operations. The KIDDE KVS Sentinel System is the ideal solution with high performance and proven durability.
In addition to the exhaustive field tests carried out by Kidde, the KIDDE KVS Sentinel System has also been tested and approved in FM - Factory Mutual laboratories, receiving the "FM Approved" certification, which is recognised worldwide as proof and guarantee of efficiency and performance.
FM Approved" certification is also recognised by all insurance companies worldwide, facilitating the acceptance of insurance cover for forestry machines and reducing the cost of the policy.
Automatic activation: through the SA1 Sentinel Panel, which monitors the detection and alarm devices and uses the exclusive Metron Technology, non pyrotechnic, which makes the electromechanical firing of the system, when fire is detected in the engine and hydraulics of the machine.

Manual Actuator: installed in duplicity, one inside the cabin and the other outside the machine, enabling the operator to make the shot before the automatic detection, when he notices the fire in its beginning.

Great speed of extinguishing: the design of the system and the location of the discharge nozzles are designed so that all the extinguishing agent in the cylinder is discharged in up to 10 seconds, for "wide and heavy" coverage that quickly extinguishes the fire.

Cylinders in various sizes: for perfect adaptation to the size of the machine.

Extinguishing agents of proven efficiency: ABC Tri Class Powder or Mechanical Foam or Dual Agent system, which fires first the ABC Powder to extinguish the fire and then the Mechanical Foam to prevent reignition.

Direct Pressurization: With the cylinder constantly pressurized, the extinguishing powder remains in suspension, without the compaction (stoning) that is common in cylinders with indirect pressurization and that causes failure to fire or a significant reduction in extinguishing capacity. ÊThe opening of the cylinder for maintenance is also much more spaced, being done only every 6 years, according to the NFPA 17 Standard.

Pressure gauge: on the cylinder, enabling constant monitoring of the system's working pressure.

FM Approved Certification: guarantee that the system has been tested and its efficiency and performance has been approved by FM Laboratories, the most reputable in the world for fire protection equipment
Call and count on the most reliable and efficient distributor for: 
forestry equipment, kidde, vehicle system, vihicle system, vehicle system engeneer
For more information on how to get in touch with the best distributorCall Elfire on the following number: (11) 3280.8097. If you prefer, write to: [email protected], We are:
forestry equipment, kidde, vehicle system, vihicle system, vehicle system en for companies;

forestry equipment, kidde, vehicle system, vihicle system, vehicle system en for Shopping Centres;

forestry equipment, kidde, vehicle system, vihicle system, vehicle system en for sheds;

forestry equipment, kidde, vehicle system, vihicle system, vehicle system en for buildings;

forestry equipment, kidde, vehicle system, vihicle system, vehicle system en for commerce;

forestry equipment, kidde, vehicle system, vihicle system, vehicle system en for Museums;

forestry equipment, kidde, vehicle system, vihicle system, vehicle system engeneerfor hospitals;